Carers Hub is a new partnership of three local charities and local authority assessment staff, who have joined together to create a focal point for unpaid carers, to get information and support they need.
Carers Hub aims to improve the quality of life of carers in Brighton & Hove by offering them a wide range of services and comprehensive local resources:
Information/Advice/ Signposting
Carers Awareness Training for Professionals
Carers Assessments and Support
Young Carers Project
Home-based Respite to enable Carers to attend health-related appointments
Supporting Carers who are caring for someone at the end of their life, and those who have been bereaved
Peer Support for Carers
Supporting Carers of people with Dementia
Improving the Wellbeing of Carers through the Carers Reablement Project
Putting carer satisfaction at the heart of everything we do, Carers Hub is for carers of all ages.
Having the right information at the right time can make a huge difference for the carer and the person they care for.  This section contains a collection of services and useful resources for Young Carers, Adult Carers and Professionals.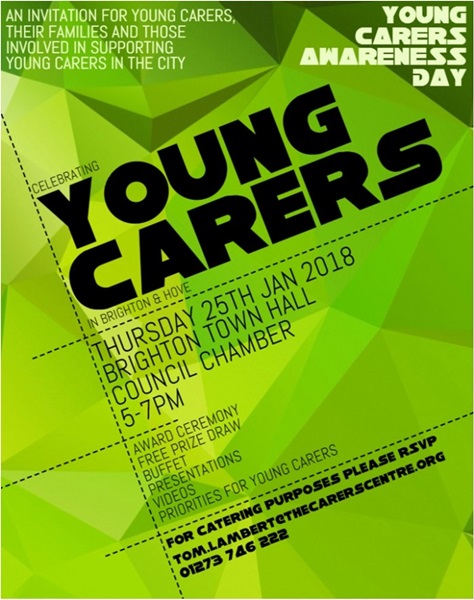 The Young Carers Awareness Day will be held on Thursday, 25th January 2018.  The Carers Centre and Brighton & Hove…
Become a Member
Please sign up to become a member of the Carers Hub website to receive the regular Carers Hub newsletter and up to date information via email of upcoming events and groups of interest to you. 
We will never sell your data and your personal information won't be shared for marketing purpose.  We promise to keep your details safe and secure. 
You can change your mind at any time by contacting info@carershub.co.uk to remove your personal information from our database. 
For further details on how your data is used and stored please see our Privacy Policy. 
Call us on 01273 977 000
Monday to Friday between 9am and 5pm
Send us an email at info@carershub.co.uk
We can also give you a call back.