Having the right information at the right time can make a huge difference for the carer and the person they care for.
Carers Hub can offer services and useful resources to Young Carers, Adult Carers and Professionals.
Carers Hub is a partnership of three local charities and local authority assessment staff, who have joined together to create a focal point for unpaid carers, to get information and support they need.
Carers Hub aims to improve the quality of life of carers in Brighton & Hove by offering a wide range of services and comprehensive local resources for carers of all ages.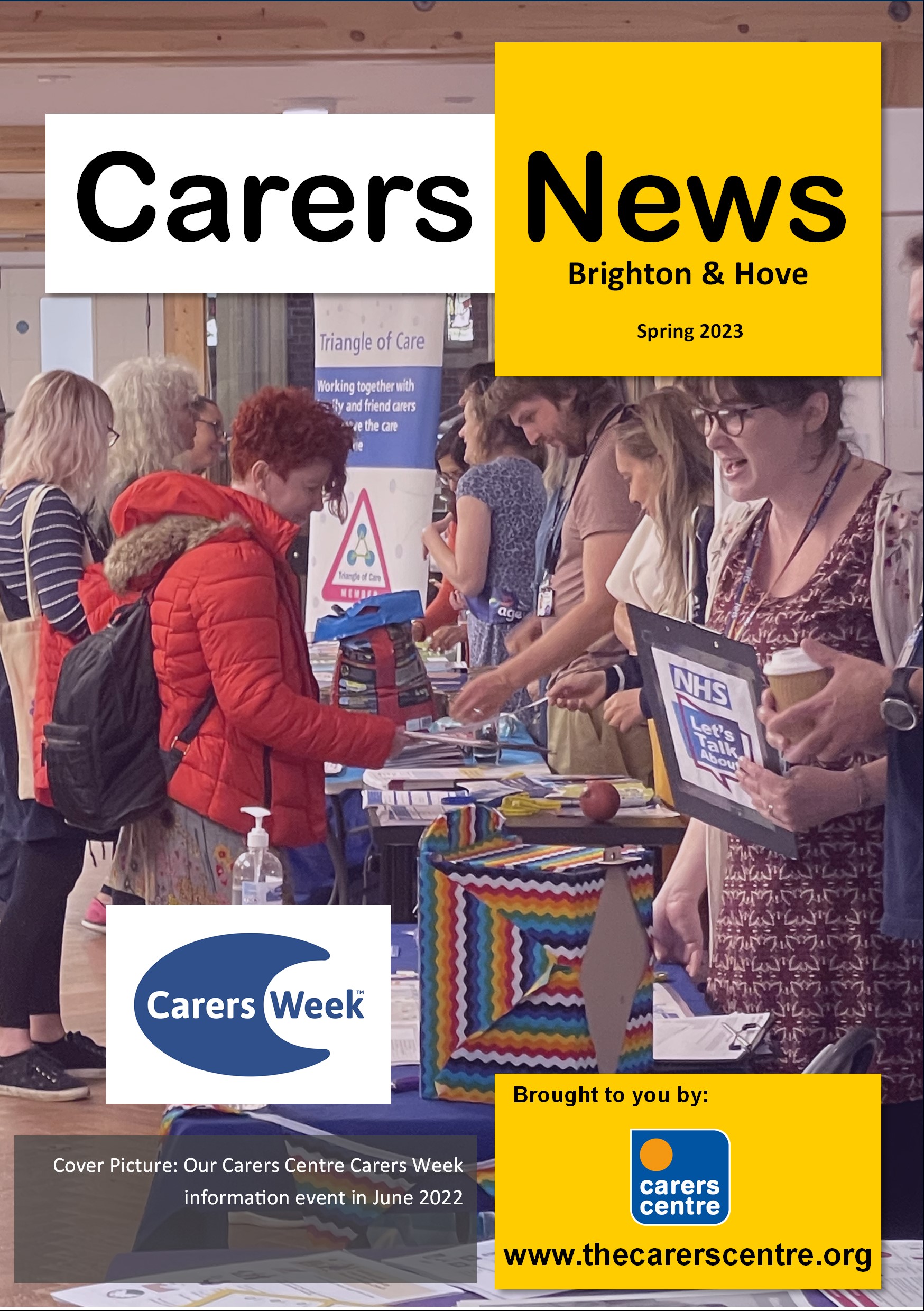 Hello and welcome to your Spring 2023 edition of Carers News. Coming up in this issue we take a look…
Supporting unpaid carers in Brighton & Hove
An unpaid carer provides support to a partner, child, relative or friend who couldn't manage to live independently or whose health or well-being would deteriorate without this help.  This could be due to frailty, disability or serious health conditions, mental ill health, or substance misuse.
There are over 23,000 unpaid carers in Brighton and Hove.
The economic value of their contribution in the city in 2016 was £437million.
There is some great work that goes on in the city to support unpaid carers, we believe that by making a Carers Pledge we can continue to support carers in their caring role. 
All Pledges will be displayed on our Pledge Wall making individuals and organisations aware of unpaid carers and how as a city they can support carers in Brighton & Hove. 
Make a pledge
To pledge is easy, here are some examples:
Display a Carers Hub poster in your organisation, workplace or GP practice
Book a carers awareness training for line managers or general staff
Encourage staff to sign up to free Carers UK digital tools, to help balance caring and work
Have information about Carers support for those who access your services
Have a Carers Champion to support carers in your workplace or to link with the Carers Hub direct
Or be creative and make your own pledge to support carers.
Subscribe
Please subscribe to the Carers Hub website to receive the regular Carers Hub newsletter and up to date information via email of upcoming events and groups of interest to you. 
We will never sell your data and your personal information won't be shared for marketing purpose.  We promise to keep your details safe and secure. 
You can change your mind at any time by contacting info@carershub.co.uk to remove your personal information from our database. 
For further details on how your data is used and stored please see our Privacy Policy. 
Call us on 01273 977 000
Monday to Friday between 9am and 5pm
Send us an email at info@carershub.co.uk
We can also give you a call back.